Documentaries
BC 120 AY 2020-2021 Audio Documentary Teaser – Gandingan Awards 2022

Pag-ahon sa Alon
Dal-luyon Productions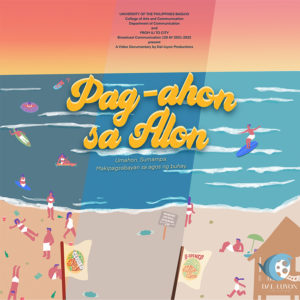 The documentary follows the story of surfing instructors in San Juan, La Union as their tourist-dependent livelihood recuperates from the challenges brought by the pandemic.
Paratang
Kinaiya Productions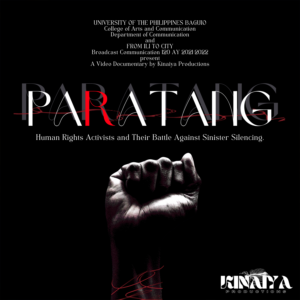 "Paratang" is about the life and struggles of human rights activists in Baguio City and their experiences of red-tagging during the pandemic.
Baki
Katha Productions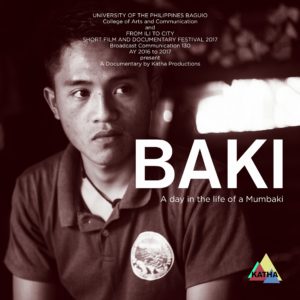 In Ifugao lies the extraordinary life of an ordinary man – a Mumbaki, or the Ifugao chief priest. This is of Ryan Buocan's, the youngest known Mumbaki in Ifugao history. Even when modern times are pressuring for the Mumbaki tradition to adopt modern ways, and even for it to cease to exist, Ryan continues to spread the tradition to the younger generations of Uhaj, Banaue in Ifugao. Following his everyday life, the story unfolds how a 21-year old man has the responsibility to live three identities: a Mumbaki, a cultural teacher, and a young adult. Baki provides a glimpse into the different types of rituals that a Mumbaki performs and into the Ifugao culture that is on the brink of being forgotten by the world.
Luwad
Palad Productions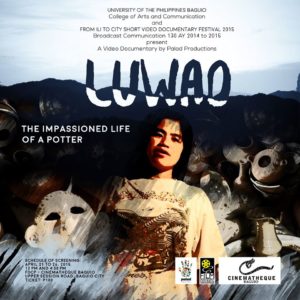 Sagada is known for its tightly-knit community, cultural identity and heritage. Pottery is an essential part of this heritage that still lives today despite the influence of modernization. Luwad (Clay) is a documentary that showcases the life of a potter. In presenting a potter's life in Sagada, stressing the importance of preserving cultural arts will highlight the unspoken beauty of pottery.
Drama/Short Films
BC 122 AY 2021-2022 Audio Drama Teaser
Missed
Alon Productions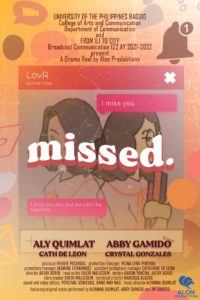 During lockdown, two former girl best friends meet again in an online dating platform where they unravel their past and hidden feelings for each other.
Rest(less)
White Noise Productions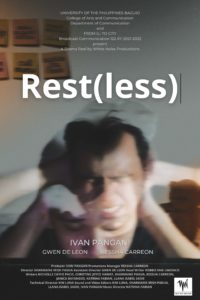 Dave's thriving world in academia and stellar future suddenly seems out of reach as he is forced to adapt to the changes brought by the COVID-19 pandemic, while dealing with his personal demons.
Touch
Kusilba Productions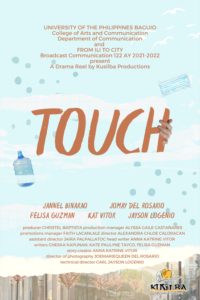 In a world where physical distance is a requisite, a young woman who has a skin condition that creates bruises on her skin if she is not touched, struggles to find connection among the people around her.
Kahit Pansamantala
Haliya Productions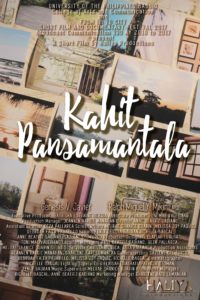 People often disregard the temporary relationships they make as they tread through life. Sometimes, they lose interest in forming relationships altogether, because forming and then breaking off friendships can be tiring. This is how introverted college student named Migs views life. In an unexpected circumstance, Migs gets reunited with his high school friend, Jaz, who loves taking pictures of people and families visiting Baguio City. Migs is happy that someone he thought who is temporary came back to his life, but he soon realizes that some people are not meant to stay, but to leave a significant impact.
Radio-TV-Online Programs
BC 130 AY 2021-2022 Audio Program Teaser
Ay, TOXIC!
Alas Dose Productions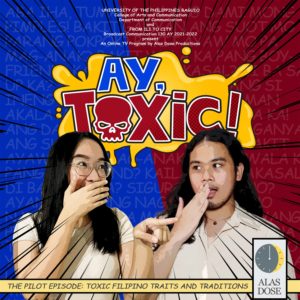 An entertainment-oriented and educational program that features and imparts lessons about toxic Filipino traits and traditions through skits and explainer videos.
Sa Panahon Namin
Alapaap Productions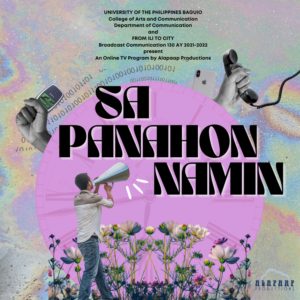 A variety show focusing on entertainment and educational value where young adults and their older relatives discuss today's popular culture from Gen Z slang to fashion and other trendy activities, all in an attempt to bridge their generational gap.
I-Fact-Check Mo!
Kasangga Productions
An information-oriented discussion program that aims to fact-check viral fake news circulating around various social media platforms with the help of field experts and animated docu-drama to educate its audience about general news and information.
The 20-Something Club
Kabanata 20 Productions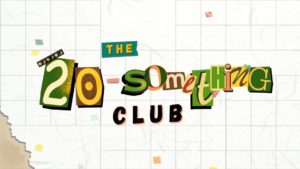 An information-oriented discussion program that highlights a crash course on the basic essentials to pass the test of adulthood.