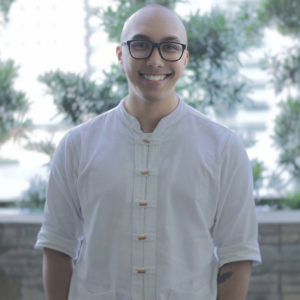 Instructor in Fine Arts
Email: jbbalaguer@up.edu.ph
John Alexis B. Balaguer, MA Cand. is an Instructor of Fine Arts at the University of the Philippines – Baguio. He is an independent curator, critic, and artist. He is the founder of Curare Art Space, and received the Loyola Schools Award for the Arts in 2012, the Purita Kalaw Ledesma Award for Art Criticism in 2019, and was the researcher of the heritage project which was awarded the Philippine Heritage Award for Adaptive Reuse in 2021. He currently contributes art writing and criticism to Art Asia Pacific magazine, and Kanto.com.ph.
EDUCATION
AB Communication (Film and Media Studies), Ateneo de Manila University
Minor in Creative Writing (Poetry), Ateneo de Manila University
COURSES TAUGHT
ARTS 1 (Critical Perspectives in the Arts)
RESEARCH INTERESTS
Museums and Institutions
Art Writing & Criticism
Contemporary Curation
Modern to Contemporary Philippine Art
RESEARCH & PUBLICATIONS
Books and Book Chapters
Fernando Zobel Catalogue Raisonne (2019), Researcher
Arturo Luz: First Light (2018), Researcher & Writer
Fujian Ware Found in the Philippines (2018), Researcher & Writer
Alfonso Ossorio: A Survey (2017), Researcher & Writer
Art & Family: The Asuncion Legacy (2016), Researcher & Writer
Ayala Museum Magazine: Sensorium (2019), Managing Editor
Ayala Museum Magazine: Those Who Dare (2018), Managing Editor
Ayala Museum Magazine: Object / Subject (2017), Managing Editor
Ayala Museum Magazine: Dialogues (2017), Managing Editor
Ayala Museum Magazine: Views (2017), Writer
Ayala Museum Magazine: Storytellers (2016), Writer
Ayala Museum Magazine: Roots (2016), Writer
Ayala Museum Magazine: No.2 (2016), Writer
Ayala Museum Magazine: The First Issue (2015), Writer
Short Communications
Review: More Light Than Heat, Lesley Anne Cao and Lao Lianben, Calle Wright | Online, Art Asia Pacific, (Oct 2019)
Review: Normal Scheduling will Resume Shortly, Poklong Anading, CCP | Issue 116, Art Asia Pacific, (November-December 2019)
2020 Almanac, Philippines Entry, Art Asia Pacific, (January 2020)
Review: Equation of State, Martha Atienza, Silverlens | Issue 117, Art Asia Pacific, (March-April 2020)
Profiles: Joven Cuanang | Issue 119, Art Asia Pacific, (July-August 2020)
Review: Unusual Tranquility, Archie Oclos, et al., Vinyl on Vinyl | Issue 120, Art Asia Pacific, (September-October 2020)
Where I Work: Norberto Roldan | Issue 120, Art Asia Pacific, (September-October 2020)
2021 Almanac, Philippines entry, Art Asia Pacific, (January 2021)
Review: Striking Affinities, Santiago Bose, Silverlens, Art Asia Pacific, (April 2021)
Review: Throw, Hide, & Twist, Joe "JoeBau" Bautista, Art Asia Pacific, (August 2021)
Art Market Report: Art Fair Philippines 2022, Art Asia Pacific, (April 2022)
Interview: The Philippine Pavilion at Venice Biennale, Gerry Tan, Fe Prudente, and Yael Buencamino, Kanto.com.ph, 2022
Review: Thirteen Artists Awards Exhibit, Cultural Center of the Philippines, Kanto.com.ph, 2022
Annual Report: 2021 Arts and Culture Review (Philippines), Kanto.com.ph, 2021
Profile: Mayumi Hirano of Load na Dito, Kanto.com.ph, 2021
Review: To put, to gather, and to put together, Shanna Orencio, Pinto Museum, Kanto.com.ph, 2021
Interview: Jo Tanierla, Pagburo-Pag-alsa, Vargas Museum, Kanto.com.ph, 2021
Review: Nature is Never Spent, Jason Dy SJ, Vargas Museum, Kanto.com.ph, 2021
Review: Repetitio, Celeste Lecaroz, 1335 Mabini, Kanto.com.ph, 2021
Review: The Last Tattooed Women of Kalinga, Jake Verzosa, Silverlens, Kanto.com.ph, 2021
Interview: Tenten Mina, Doers, Kanto.com.ph, 2021
Featured: John Alexis Balaguer, Heirlooms, Kanto.com.ph, 2021
Featured: Curare Art Space, Changemakers, No. 1, Kanto.com.ph, 2020
Featured: John Alexis Balaguer, No. 1, Vol. 2, Kanto.com.ph, 2017
Conference Presentations
Roundtable: Visualizing Histories, The Museum Collective (2021)
Art Talks: Art and Abodes, The Manila Bang Show (2021)
ArtSpeak: Doktor Karayom & Archie Oclos in Conversation with John Alexis Balaguer, Ateneo Art Gallery (2019)
Agora: A Roundtable Discussion with Arts Professionals and their Practice, Benilde Arts Management (2019)
Promoting the Value of Libraries, Archives, and Museums in the Attention Economy, Monday Studies, Ayala Museum (2019)
ALAM: Information for All, UP Library Science Alumni Association (2019)
AWARDS, CITATIONS, FELLOWSHIPS, GRANTS, AND SCHOLARSHIPS
Fellow, Curatorial Development Workshop, Issued by Japan Foundation, Vargas Museum · Jan 2022
National Heritage Awards – Built Heritage (Head of Research) Issued by Office of the President of the Philippines, National Commission of Culture and the Arts · Sep 2021
Winner, Purita Kalaw Ledesma Award for Art Criticism, Issued by Ateneo Art Gallery · Jan 2019
Fellow, Curatorial Development Workshop, Vargas Museum, Issued by Japan Foundation · Jan 2018
Fellow, Curatorial Mentorship Program with Agustín Pérez Rubio, Bellas Artes Projects, Issued by Bellas Artes Projects · Jan 2018
Awardee, Loyola Schools Award for the Arts Award for Illustration, Issued by Ateneo de Manila University · Jan 2012