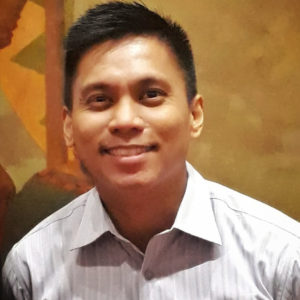 Lecturer
Email: avmagno@up.edu.ph
Angelo Magno (b. 1979) received his bachelor's degree in Art Studies at the University of the Philippines in Diliman, College of Arts and Letters in 2000 and finished his Master of Fine Arts from the UP College of Fine Arts in 2016. He is a senior lecturer at the UP Baguio, College of Arts and Communication, Fine Arts program. He is the Vice President of the Pinoy Printmakers, a national art organization formerly known as the Philippine Association of Printmakers, an Associate Program of the of the Cultural Center of the Philippines. He has exhibited his works in the Philippines, Singapore, Malaysia, USA and Indonesia.
EDUCATION
Master of Fine Arts, UP College of Fine Arts, Diliman, 2016
BA Art Studies, Interdisciplinary, UP College of Arts and Letters, 2000
COURSES TAUGHT
Arts 1  (Critical Perspective In The Arts)
FA 104  (Figure Drawing)
FA 111 (Philippine Traditional Art Forms)
FA 161  (Production Methods)
FA 107 (Arts Management)
RESEARCH INTERESTS
Art History
Philippine Popular Culture
RESEARCH & PUBLICATIONS
Short Communications
Traveling the Path of Printmaking, an article for Contemporary Art Philippines magazine, Issue #15, 2011.
Conference Presentations
Presentor, National Conference on Geographical Studies (NCGS) 2019, Spatial Humanities: Artistic(Re)Territorialisations, Interventions and Subversions, University of the Philippines, Diliman, Quezon City, November 15-16, 2019.
AWARDS, CITATIONS, FELLOWSHIPS, GRANTS, AND SCHOLARSHIPS
Cultural Center of the Philippines exhibition grant, Pasilyo Edades, March 2006, UP Jorge Vargas Museum exhibition grant, 3rd floor gallery, June 2016