First established as the Division of Humanities, the College of Arts and Communication (CAC) became the University of the Philippines Baguio's degree-granting unit in humanities and communication in 2002. The College envisions to be "a hub of dynamic communication, literature, language and arts scholars who embody responsibility, honor, and excellence." Moreover, CAC is committed to quality instruction in these fields of study, and to the development of highly-skilled and well-rounded individuals who have a fine sense of their professional and civic obligations.
The College is composed of two academic departments: the Department of Communication, which implements the B.A. in Communication program; and the Department of Language, Literature and the Arts, which implements the degree programs in fine arts and language and literature.
VISION
The Department of Communication seeks to create a hub of communication scholars who imbibe the University's time-honored values of honor and excellence and takes the lead in contributing to the public good through communication research and practice.
MISSION
The Department's mission is to:
Deliver an excellent communication program that will equip students with grounding in theory and practice to enable the creation and innovation of communication forms that respond to the issues of our time;
Develop communication researchers and practitioners with a sense of accountability and civic responsibility who will contribute to the development of region, nation, and the world; and
Cultivate a culture of research and practice that will integrate social, cultural, and scientific approaches to contribute to the production of democratic forms of communication
WHAT OUR STUDENTS SAY ABOUT US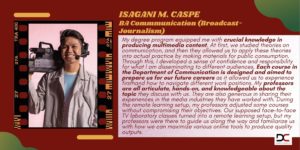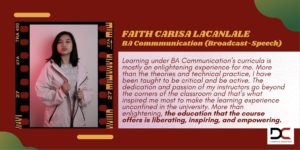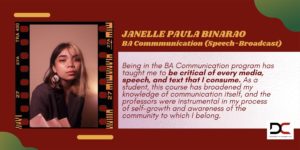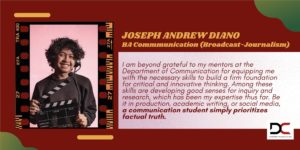 WHAT OUR GRADUATES SAY ABOUT US